Topic: [Style - beta] id_summer
Hello !
I just come to present you my first PunBB 1.3 style.
I first made it for a request, but since the project has aborted, I got the OK from the requester to unpersonalize it and distribute it.
So, I updated the style to 1.3.4 and I replaced the project's logo by the PunBB logo, and the folders (that were also using the project logo) by simple comic bubbles. I also did some CSS touch-ups and added modified templates in order to manage the layout graphics more properly.
The style's name is id_summer - a name that was inspired by the vivid and punchy colors that are used in this style
Here's a screenshot of it :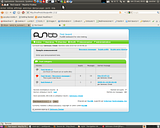 For now, I tested only on Firefox 3.6 and Chromium (both on Ubuntu), and I need some help to test it on different browsers.
For this, here's the download link : http://ishimaru-design.servhome.org/dl/ … -beta2.zip
Thanks in advance !
Last updated on August 13th 2010 at 12:04 AM, UTC-5
Ubuntu Linux 10.04 LTS / Windows XP SP2
GIMP 2.6.8 (advanced), Inkscape (newbie)
XHTML/CSS (advanced), PHP/MySQL (medium)
Don't ask what free software can do for you, but what you can do for free software.